About Project
$WOJAK will takeover the meme space by surprise. with a renounced contract. Wojak's knowledge will blow away even the most prominent scholars. ✅ CMC / CGK Fast track ✅Ave update ✅Top Call Channels ✅ Dextools Trend & Ave Trend ✅ Massive Marketing ✅ no team token
Token Information
Token Name :
WojakMemeCoin
Total Supply :
1,000,000,000
Contract Address :
0x84...cc2d
Compiler :
v0.8.19+commit.7dd6d404
Contract Created :
May-24-2023 06:48:44 PM +UTC
Contract Language :
Solidity
Owner & Deployer Information
Owner Address :
0x54...eb72
Deployer Address :
0x54...eb72
Overview Information
Overview contract information
Blacklist
The owner can not set blacklist
Honeypot
Liquidity has not been added
Can Take Back Ownership
The owner can not take back ownership
Modify Fees Buy
The owner can not set buy fees over 10%
Modify Fees Sell
The owner can not set sell fees over 10%
Proxy
Proxy Contract Not Detected
Max Tx Amount
The owner can not set max tx amount
Transfer Pausable
The owner can not pause trading
Trading Cooldown
The owner can not set time selling interval
Whitelisted
The owner can set exemption fee. BSF57
Owner Change Balance
The owner can not change balance address
Hidden Owner
Hidden Owner Not Detected
Cannot Sell All
Liquidity has not been added
Cannot Buy
Liquidity has not been added
Tax / Fees Information
All information about tax information
Manual Audit
Recap manual audit information
- Could be fixed, will not bring problems.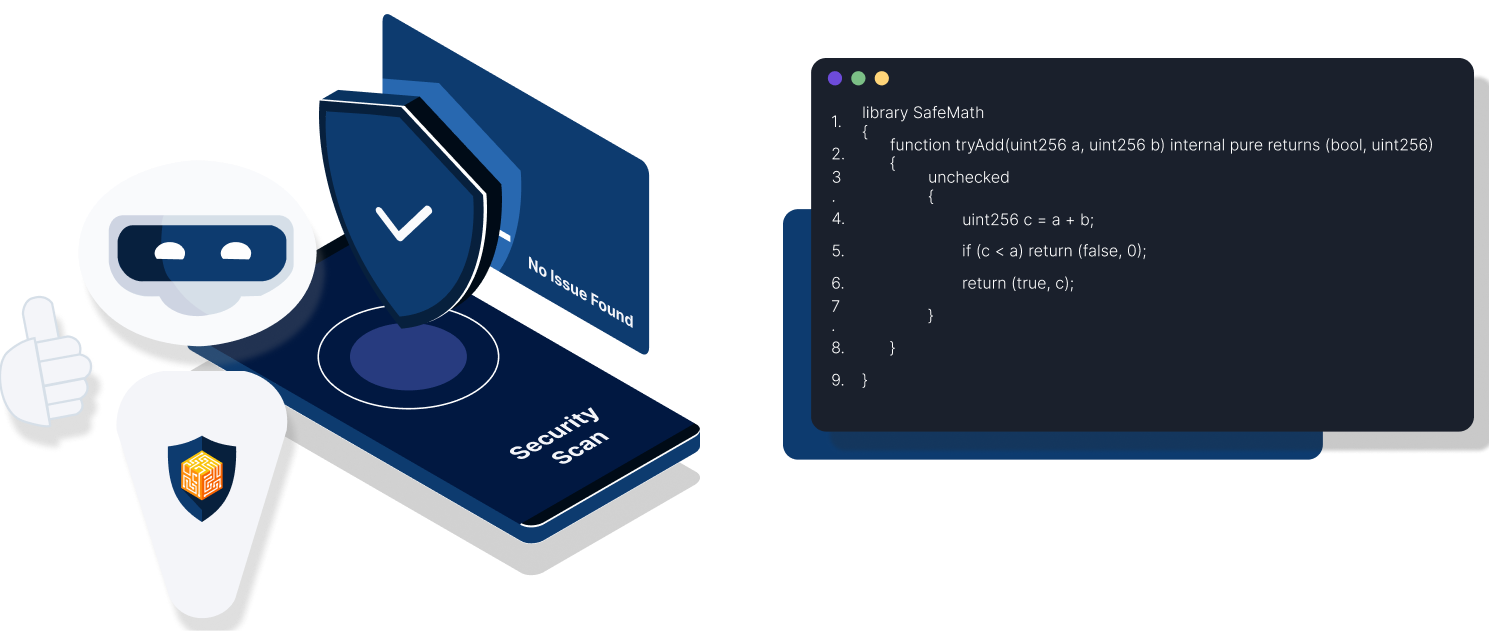 Audit Information
Information audit recap
Manual Review
Static Analysis
Dynamic Analysis
Symbolic Execution
SWC Check
Compiler
v0.8.19+commit.7dd6d404
Issue Information
Critical Count:
Major Count:
Medium Count:
Minor Count:
Informational Count:
Contract Detail
All information about contract detail
Loading...
Contract Inheritance
Information about contract inheritance and relation
Token Metrics Information
Information about token metrics alocation
Website Information
Information about project website
SSL Provider
Let's Encrypt
Speed Information
First Contentful Paint: ms
Fully loaded Time: ms
Domain Checker
Website: http://wojakmeme.space
Location:Loading...
Region: Loading...
Token Holder & Lp Information
Information about token holder and liquidity protocol
BlockSAFU Automatic Vulnerability Scan
Vuln list information and explanation
Function Summary
All information about function summary
Disclaimer
BlockSAFU has completed this report to provide a summary of the Smart Contract functions, and any security, dependency, or cybersecurity vulnerabilities. This is often a constrained report on our discoveries based on our investigation and understanding of the current programming versions as of this report's date. To understand the full scope of our analysis, it is vital for you to at the date of this report. To understand the full scope of our analysis, you need to review the complete report. Although we have done our best in conducting our investigation and creating this report, it is vital to note that you should not depend on this report and cannot make any claim against BlockSAFU or its Subsidiaries and Team members on the premise of what has or has not been included in the report. Please remember to conduct your independent examinations before making any investment choices. We do not provide investment advice or in any way claim to determine if the project will be successful or not.

By perusing this report or any portion of it, you concur to the terms of this disclaimer. In the unlikely situation where you do not concur with the terms, you should immediately terminate reading this report, and erase and discard any duplicates of this report downloaded and/or printed by you. This report is given for data purposes as it were and on a non-reliance premise and does not constitute speculation counsel. No one should have any right to depend on the report or its substance, and BlockSAFU and its members (including holding companies, shareholders, backups, representatives, chiefs, officers, and other agents) BlockSAFU and its subsidiaries owe no obligation of care towards you or any other person, nor does BlockSAFU make any guarantee or representation to any individual on the precision or completeness of the report.

ABOUT THE AUDITOR:

BlockSAFU (BSAFU) is an Anti-Scam Token Utility that reviews Smart Contracts and Token information to Identify Rug Pull and Honey Pot scamming activity. BlockSAFUs Development Team consists of several Smart Contract creators, Auditors Developers, and Blockchain experts. BlockSAFU provides solutions, prevents, and hunts down scammers. BSAFU is a utility token with features Audit, KYC, Token Generators, and Bounty Scammers. It will enrich the crypto ecosystem.